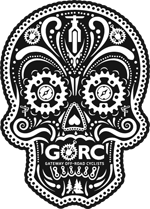 Every year GORC celebrates its hard-working volunteers, whether they are a member or not, with a king-sized party. Come out and see all your GORC friends. The annual Appreciation Party recognizes all of our volunteers that have come out to our trail building days throughout the year. And what better way to celebrate all the awesome new trail built entirely by our hard-working volunteers than with a creative poker run, free beer (2 kegs!), food and cake - yes, delicious and awesome cake.
This year with our Volunteer Appreciation Party so close to Halloween we decided to design a limited run of new GORC t-shirts. Receive yours when you stop on by the all-day party!
The ride/poker run starts at 10:00 with great surprises and prizes so don't forget to bring your bike. If you can't make it to the ride/poker run stop by partyHQ at the Glassberg Shelter any time. GORC will be there all day and into the evening.
Don't miss the sweet raffle or you'll miss out on a chance to win some great swag. Be sure to receive your new trail builder t-shirt from Dogfish.
Awesome Giveaways from Our Friends at Rogue Hoe
--T-shirts
--Two 55H hoes with hickory handles and leather sheaths
--Two $25 gift certificates to Rogue Hoe
Where: Greensfelder County Park Glassberg Shelter
When: Saturday, November 2, 2013 Group Ride and Poker Run at 10:00am (meet at the Glassberg Shelter)
Party at the Glassberg Shelter from noon - 6:00pm