Project Proposals
This is the place to learn about our project proposals submitted to the area land managers. The Ongoing Projects section lists our long-term projects at area parks.
For questions or comments, please use our forum or visit us on our facebook page or contact us by email.
 
Bluff View
We have submitted a proposal to develop a directional flow trail, family trail and pump track to the City of Wildwood.
Updated: 03/15/19
View Bluff View Proposal Here

West Tyson (Chubb)
We have submitted a master plan proposal to develop a new trail and features to St. Louis County Parks. This effort is being led by the GORC Gravity team.
Updated: 03/15/19
New construction of a 1-mile trail from above the steps to the railroad tracks to begin this Fall.
Updated: 10/15/19
View Chubb Master Plan Proposal Here
 
Matson Hill
We are currently working with St. Charles County Parks to scout and develop a proposed new flow trail, traditional trail and reroute some minor sections of the existing trail network. This effort is being led by the GORC Gravity team and Matson trail stewards.
Updated: 03/15/19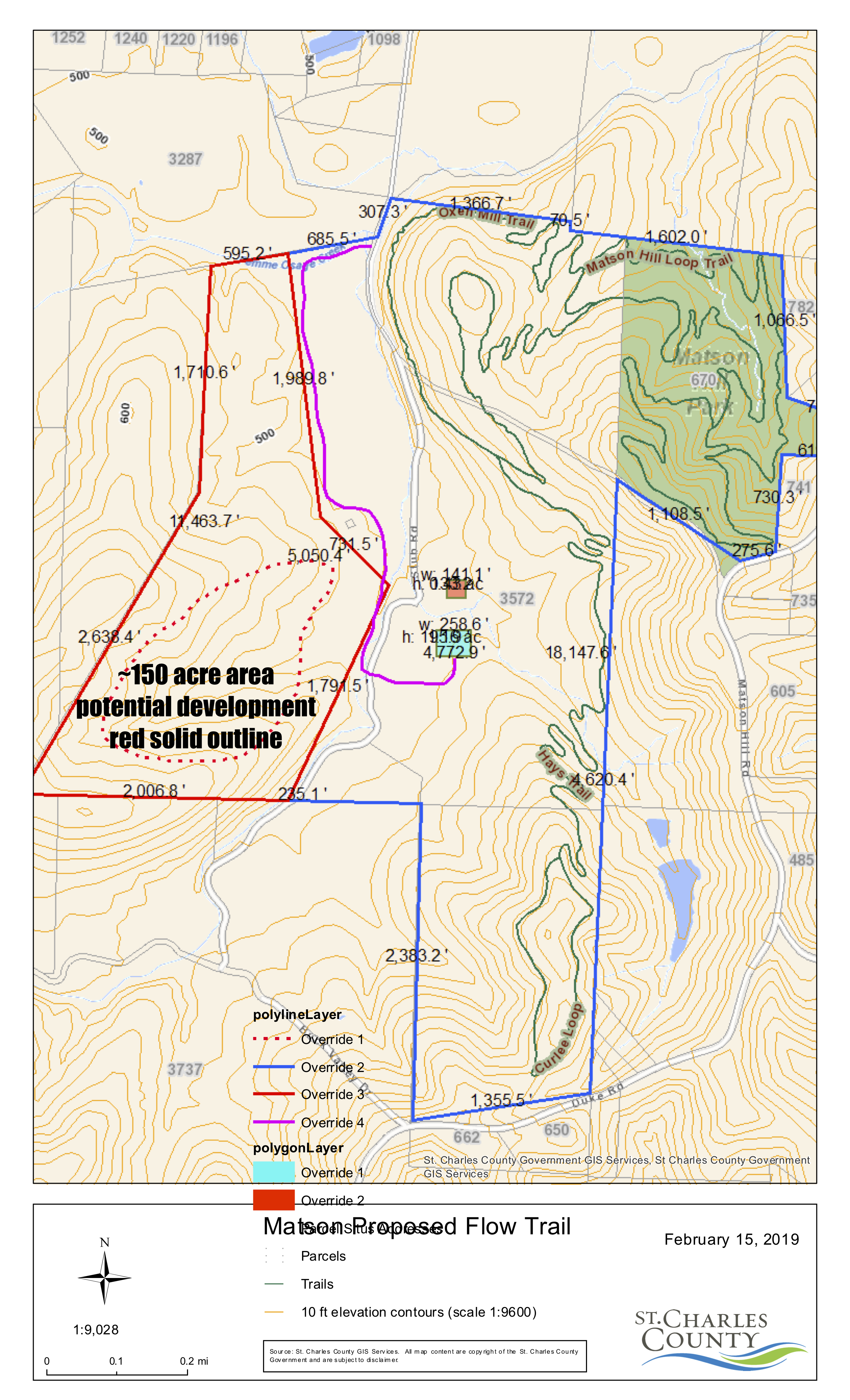 Babler State Park
We have submitted a plan to the Missouri Department of Natural Resources to add mountain bike specific trails to a portion of Babler State Park.  If approved as submitted, it would include an XC type trail to access a hub at the high point of the property where two directional trails would descend back to the bottom.  Total mileage would be 6-8 miles.  This would be the first public land to incorporate directional, mountain bike specific trails in the St. Louis region.  The approval process could take up to 6 months.  We will keep you posted on any further developments.
Updated: 05/18/19
Requests for Environmental and Cultural Clearances have been submitted.  These should take place in November.
Updated: 10/15/19
Cuivre River State Park
We are currently discussing opportunities within Cuivre River State Park to develop mountain bike trails. This is in very early stage discussions and we will announce more information as it becomes available.
Updated: 03/15/19
Ongoing Projects
Bluff View (official name) aka Rock Hollow aka Zombie
A maintenance plan was submitted to Wildwood to address any unresolved building issues on the now completed trail system. With their approval, we began peforming these updates at our official build days in 2019 and during our summer Thursday night weekly build series. We hope - with enough volunteer support - to have this plan completed by 2020.
Updated: 10/18/19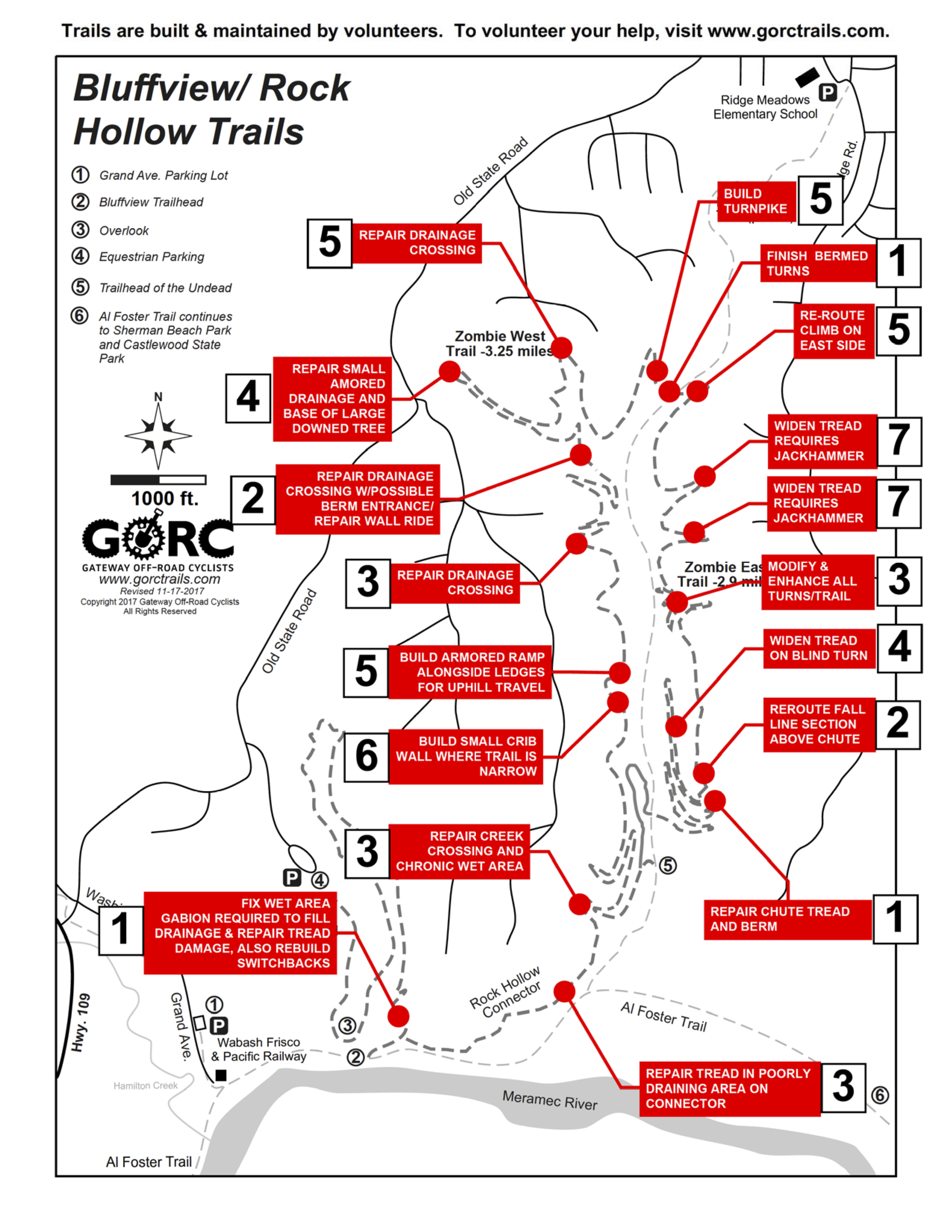 Greensfelder
A master plan was submitted to St. Louis County Parks in mid-2018 that outlines our project goals to revitalize the remaining multi-use trails using sustainable trail building methods and potentially create a singletrack route to allow riders access to and from the park via Melrose Road. This would allow users to connect Greensfelder to the Hamilton-Carr paved trail and onto the Al Foster and Bluff View trail networks. We believe this would greatly enhance the region's park connectivity and draw outdoor enthusiasts from around the region. Currently, this "Melrose Connector (working title)" trail concept has not been approved to date.
We are currently working on revitalizing the Deer Run trail by rerouting portions to create a sustainable natural surface tread. This includes up to 2 miles of new multi-use singletrack and will begin construction in March 2019 and will continue until the Deer Run trail is complete.
Once complete, our focus would shift to the Melrose Connector, if approved, or continue the revitalization process on the Mustang trail. Our preference would be to gain northern multi-use access from Melrose Road to connect our region's parks and amenities.
Updated: 03/15/19
Cliff Cave
Cliff Cave is expanding its natural surface trail network. More information in the near future.
Updated: 03/18/19