Project Proposals
This is the place to learn about our project proposals submitted to the area land managers. The Ongoing Projects section lists our long-term projects at area parks.
For questions or comments, please use our forum or visit us on our facebook page or contact us by email.
 
Bluff View
Thanks to everyone that contributed to the Bluff View Bike Park Fundraiser.  We raised $51,700, which was far over our goal of $50k.  This money was used to buy materials and pay for equipment rental in the construction of the Strider Trail, Packwood Flow, GHP, Formula One, and the yet-to-be-completed Family Flow Loop Trail.  We will be continuing work on the Family Flow Loop Trail in the Spring.  This trail will get a couple of wooden sender features along with many dirt berms, tables, and rollers.  Thanks for your continued support of this project.  It has come a long way in a short time and it couldn't have been done without the mountain bike communities' support.
Updated: 01/09/23
We have submitted a proposal to develop a directional flow trail, family trail and pump track to the City of Wildwood.  We are currently going through the approval process.  The proposal has received positive public comments and is now going in front of the Planning and Zoning Board for approval on 2/18/20.  If approved, it will go before the City Council next month.  We are hopeful that this project will be approved this Spring.
Updated: 02/18/20
The project was approved by the Planning and Zoning Board last night.  One step closer.  The next step is the presentation to the City Council for the initial review.
Updated: 02/19/20
The project was reviewed by the Wildwood City Council on February 24th.  We are awaiting further news from the City.
Updated: 03/06/20
The City of Wildwood has asked that GORC enter into an MOU with them in order to start the project at Bluff View.  The first reading of the agreement was conducted at the Wildwood City Council meeting on January 11th.  It was accepted and approved for its second reading on January 25th.  An updated version of the proposed layout of trails is below.  The MOU was approved after its second reading on 1/25/2021.  We are currently working with the CoW to get a grading permit.
Updated: 02/12/21
The project is approved, MOU signed, grading permit issued.  We are now beginning the final design stage, honeysuckle clearing, and fundraising for materials.  Please donate to the fundraiser to help complete this project.
Updated: 03/15/21
View Bluff View Proposal Here


West Tyson (Chubb)
We have submitted a master plan proposal to develop a new trail and features to St. Louis County Parks. This effort is being led by the GORC Gravity team.
Updated: 03/15/19
View Chubb Master Plan Proposal Here
 
Matson Hill
Update: 01/13/21 - St. Charles County Parks has this project in a 'holding pattern' for the time being.
We are currently working with St. Charles County Parks to scout and develop a proposed new flow trail, traditional trail and reroute some minor sections of the existing trail network. This effort is being led by the GORC Gravity team and Matson trail stewards.  This project is currently out for bid by St. Charles County.  See the map below for trails being constructed by professional builders.
Updated: 03/06/20
While GORC has been proposing, building, and maintaining trails at Matson for many years, this project is a bit different. Our team has been helping to guide the county through a different process. It will connect builders around the country with the county so they may bid on this project. GORC may have some volunteer-based building and/or maintaining with this project, but how much is yet to be determined.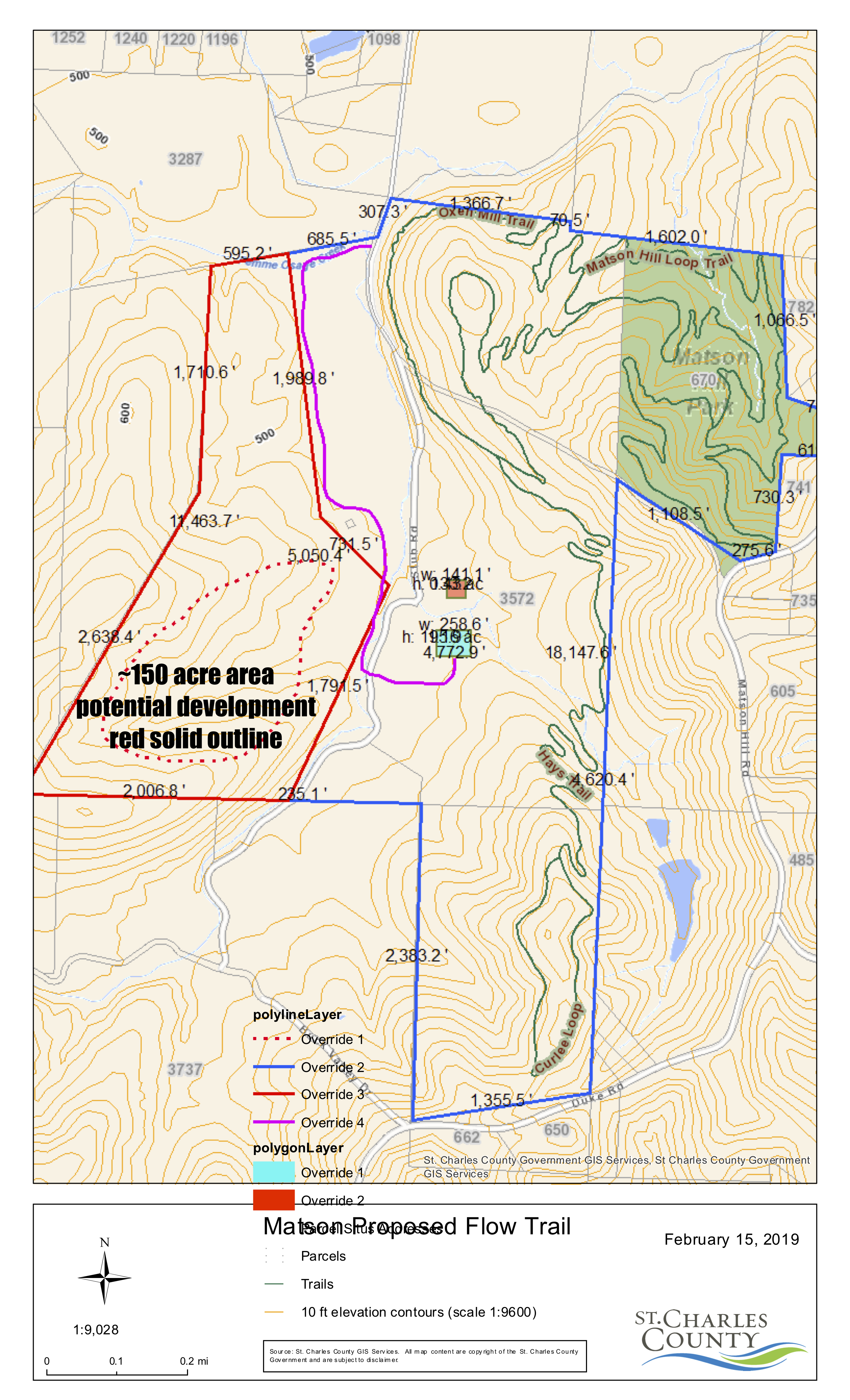 Babler State Park
We are working on a proposal for the Missouri Department of Natural Resources to add mountain bike trails to a portion of Babler State Park.  If approved as submitted, it would include an XC type trail system with flow elements like Bluff View Trail.  Total mileage would be 6-8 miles.  The original concept that was proposed was not accepted due to environmental concerns.  The result was that MO DNR designated another section of the park for mountain bike trails.  We had a Webex meeting with MODNR on 2/10/2021 to discuss the soil types at Babler and trail construction techniques to limit erosion.  We are currently arranging a field trip to educate them on area trails and how GORC constructs trail in erosion-prone areas.
Updated: 02/12/21
Original Proposal:  (New proposal to follow)
Cuivre River State Park
We are currently discussing opportunities within Cuivre River State Park to develop mountain bike trails. This is in very early stage discussions and we will announce more information as it becomes available.
Updated: 03/15/19
Ongoing Projects
Bluff View (official name) aka Rock Hollow aka Zombie
A maintenance plan was submitted to Wildwood to address any unresolved building issues on the now completed trail system. With their approval, we began peforming these updates at our official build days in 2019 and during our summer Thursday night weekly build series. We hope - with enough volunteer support - to have this plan completed by 2020.
Updated: 10/18/19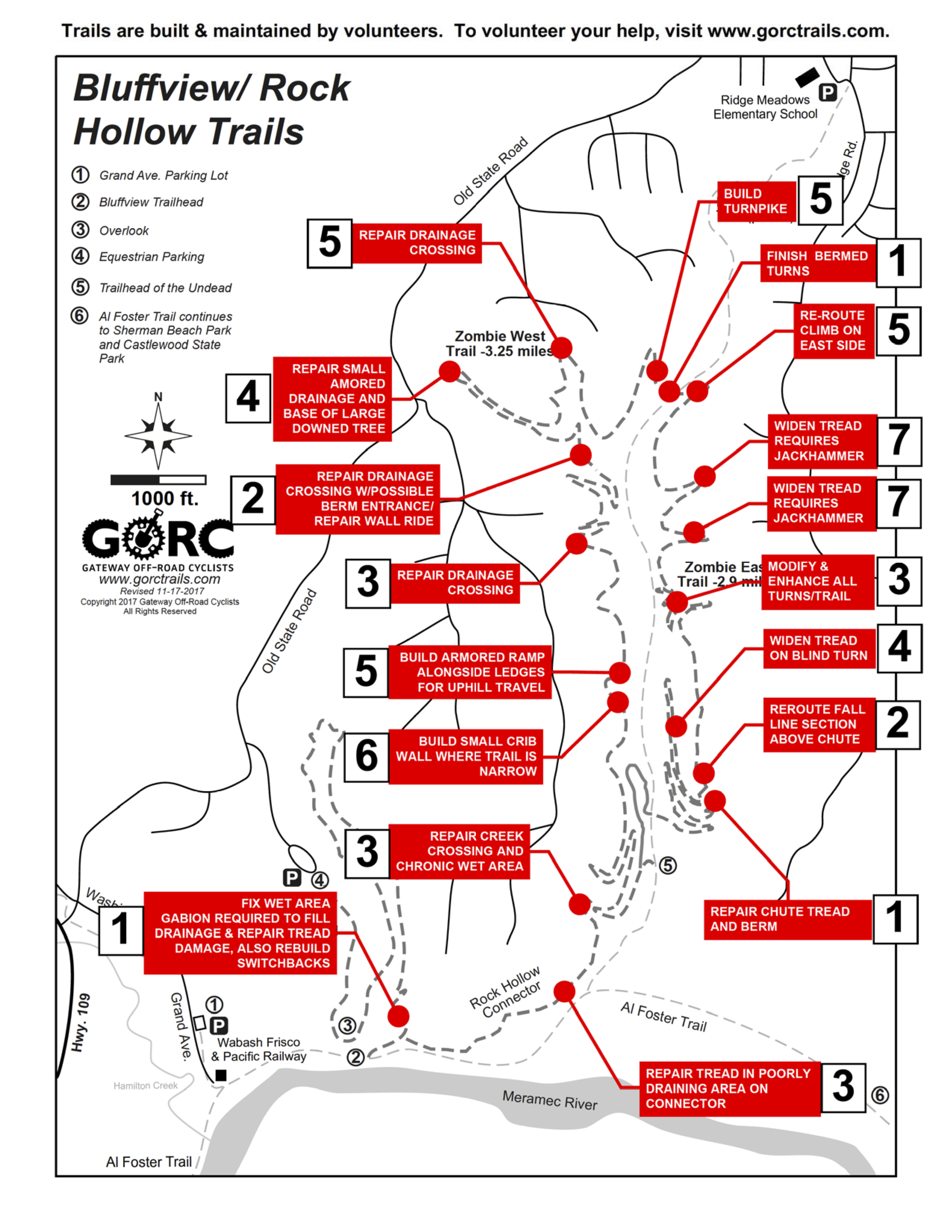 Greensfelder
Update: 11/10/22 - As we continue to make great progress revitalizing portions of the Dogwood trail, we are now focusing on the long and steep climb out of the main valley drainage. We are projecting up to 0.25mi of new singletrack that climbs (or descends depending on direction) at a sustainable grade through some rocky areas, flowy and swoopy feeder drainages and will reconnect to the existing trail near the Roundhouse Loop gravel road. We estimate 2-3 builds will be required to complete this addition but may be sped up depending on the usage of our trailbuilding ditchwitch machine to rough in a portion of the trail. Finally, we are looking at another 0.1mi reroute on the western-most portion of dogwood that would eliminate a muddy climbing turn and traverse the flowy hillside with an updated bermed turn. Stay tuned!
Update: 02/02/22 - With the finishing touches applied to the Deer Run revitalization project in late 2021, GORC is focusing its efforts on revitalizing the Dogwood trail in 2022 and beyond. We are estimating between 4-6 trail builds may be required to perform sustainable reroutes and trail corridor maintenance. We also hope to have a few volunteers perform honeysuckle eradication along the trail's corridor, specifically on the upper leg that is nearest to the Allenton and Hencken parking lot and pavilion.
The Dogwood trail was rebuilt by GORC over 17 years ago when it was an eroded fall-line trail that saw little use. Dogwood was brought back to life and has had a good run but now there are sections that must again be addressed due to erosion issues. Where segments of fall-line trail were left in place due to time and design constraints, we are taking a proactive approach to redesign these areas to better handle multi-use traffic and water runoff. 
There will be approximately 4-6 areas to be rerouted, including the trail entrance located at the Roundhouse parking lot. Water runoff has created drainage issues with the Dogwood trail and the Roundhouse gravel trail at this location. The other large reroute will come in the form of a sustainable and sustained climb from the large valley back up to the trail intersection near the parking lot. The current climb is simply too steep in most places to last much longer as it continues to trench into the hillside exposing roots and accelerating water runoff. This reroute will also address the drainage crossing that continues to deeply erode the trail.
Stay tuned for more updates and a design map to give you an idea of the locations mentioned.
Update: 01/13/21 - We hope to have the Deer Run project finished by late spring 2021. We still need to connect the new trail reroute to the "visitor's center climb" which is part of Deer Run and Eagle Valley. We also want to put in a small reroute to offer a sustainable climb when going counter-clockwise along the Scenic Loop road just below the Glassberg parking area. This is a short but steep grade that is about 140 feet long. The goal would be to keep the old piece, if feasible, for descending purposes.
A master plan was submitted to St. Louis County Parks in mid-2018 that outlines our project goals to revitalize the remaining multi-use trails using sustainable trail building methods and potentially create a singletrack route to allow riders access to and from the park via Melrose Road. This would allow users to connect Greensfelder to the Hamilton-Carr paved trail and onto the Al Foster and Bluff View trail networks. We believe this would greatly enhance the region's park connectivity and draw outdoor enthusiasts from around the region. Currently, this "Melrose Connector (working title)" trail concept has not been approved to date.
We are currently working on revitalizing the Deer Run trail by rerouting portions to create a sustainable natural surface tread. This includes up to 2 miles of new multi-use singletrack and will begin construction in March 2019 and will continue until the Deer Run trail is complete.
Once complete, our focus would shift to the Melrose Connector, if approved, otherwise we have maintenance projects planned for Dogwood Trail and other trail segments. There's interest from the county to revitale the Mustang trail to prevent erosion and create a long-lasting sustainable trail. The trail steward's preference would be to gain northern multi-use access from Melrose Road to connect our region's parks and amenities by way of a new "connector" that would tie in to the Green Rock trail near the bottom of the large drainage below Melrose Road.
Updated: 01/13/21
Cliff Cave
Cliff Cave is expanding its natural surface trail network.  A proposal has been submitted to connect the East and Westside trails and approved. Construction has begun on the connector trail.  Anticipated completion in Spring of 2021.
Updated: 02/12/21