Build - Lost Valley - Trail Building Day 12-05-20
Date: Saturday, December 5, 2020 - 9am - 1pm
Location: Lost Valley parking lot
Build Plans: We will begin construction of a new trail that will replace the old gravel roadbed leading to the "cedar grove" section referenced on the Lost Valley Trail map on the GORC website (see #3 on the map for approximate location).  Once complete, the new trail will be approximately 1 mile in length and replace about 1/2 mile of existing gravel road/trail.  
COVID-19 & Trailbuilding: As most trail crews are small, working outside of normal exposure to the public, trail building is an inherently "socially isolated" activity. GORC believes that utilizing best practices in maintaining a hygienic and safe work site can minimize the potential of exposure to COVID-19 for volunteers and the general public.  We will require all volunteers to maintain a physical distance of 6' while working.  If that is not possible, a mask will be required.  If you feel sick or have been exposed to someone who has recently been diagnosed with COVID-19, please stay home.  We will look forward to seeing you at a future trail build.
Directions:  From the Highway 40/94 interchange: Take Highway 94 South approximately 5 miles. The trailhead parking lot will be on your right hand side. This is the gravel parking lot at the bottom of the hill just past the shooting range. From the parking lot we'll split up and carpool back to the worksite via the gravel road that runs parallel to Little Femme Osage creek for approximately 2 miles.  You can also ride your bike to the worksite which may be preferable if you need to leave early. (See www.gorctrails.com for directions and details of the park).
What to bring: Gloves, Sturdy shoes, eye protection, and something to drink on the trail.
Please note that due to Covid restrictions, lunch will NOT be provided after the workday.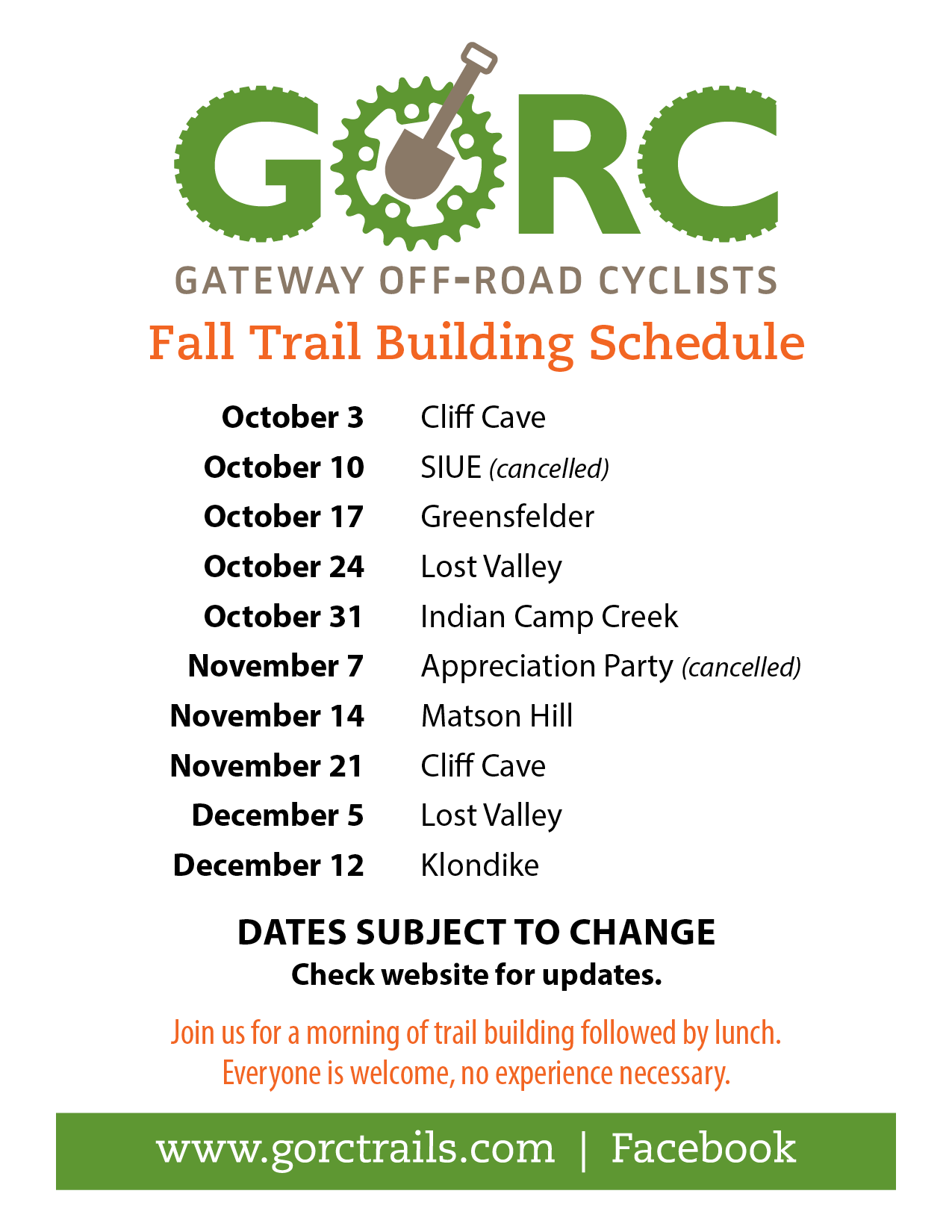 When
December 5th, 2020 9:00 AM through 1:00 PM
Location
Lost Valley - Trailhead Parking Lot




Weldon Spring

,

MO

63304