Build - Bluff View - Trail Building Day 10-02-2021
Trail Building with your friends from GORC at the new Bluff View Bike Park!!!
Date: Saturday, October 2, 2021 - 9am - 1pm
Location: Bluff View Park, meet at Main Trailhead
Build Plans: We will be splitting into different groups to take on many projects involved with the Bluff View Bike Park.
- We will be sending a group down to the bottom of the Downhill Trail to build a short section of trail.  This will be a two-way trail that will allow those that want to session the last big feature to enter the Downhill Trail without climbing all the way back to the top.  It will also be used by riders who do not wish to ride the last feature by providing an easier way to access the existing Bluff View trail.
- Another group will be working on the Strider trail area.  We will be adding some plants and mulch to the drains.  We will also be adding dirt to the back of a few of the berms with the Ditch Witch that will require finishing.
- If we have enough people, we will be clearing honeysuckle where the second skills line will come off the Hub in preparation for the November building.
- We also have (2) culvert drains that need to be armored.  We have already moved some rock to these areas, but more will probably be required.
Directions: Bluff View Park, Old State Rd in Wildwood MO
What to bring: Gloves, Sturdy shoes, eye protection, and something to drink on the trail.
Lunch will be provided.
Download the Schedule as a PDF
Download the Schedule as a Quarter Sheet PDF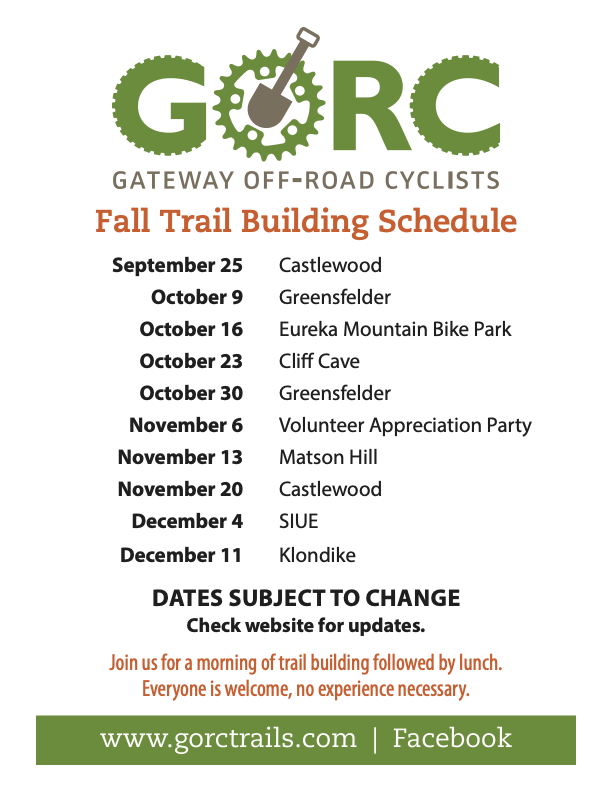 When
October 2nd, 2021 9:00 AM through 1:00 PM
Location
1900 Old State Road




Wildwood

,

MO

63038