Build - Greensfelder - Trail Building Day 10-09-21
Date: Saturday, October 9, 2021 - 9am - 1pm
Location: UPDATE: Greensfelder Park, meet at Glassberg Shelter
Build Plans: We are going to wrap up the Deer Run project by completing a short reroute located next to the Loop Road and the Glassberg Shelter. Those of you that have ridden Deer Run know how steep and loose that last leg of the big climb out of the valley is and continues to get worse with each rain. 
We will be building a sustainable climbing grade that will peel off the 'less steep' portion of the existing Deer Run climb/descent and traverse the hillside with a couple of bermed turns before reconnecting at the top back into the existing Deer Run trail. NOTE: We have no plans to decommision the existing trail. This means multi-users can climb the easier, new grade and descend the existing steep trail. We will probably end up with almost twice the length of new trail for the short piece we are 'rerouting'.
Come on out and join us whether you've built trail or not! If we can get this project completed soon, we can then move onto revitalizing segments of the Dogwood trail, a trail gem that needs a bit of work to bring that magicshine back.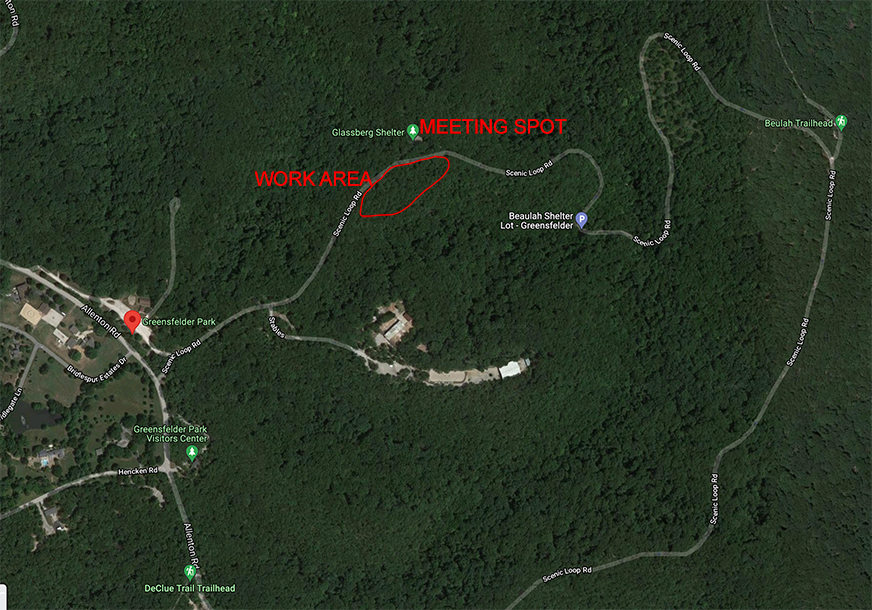 COVID-19 & Trailbuilding: As most trail crews are small, working outside of normal exposure to the public, trail building is an inherently "socially isolated" activity. GORC believes that utilizing best practices in maintaining a hygienic and safe work site can minimize the potential of exposure to COVID-19 for volunteers and the general public.  We will require all volunteers to maintain a physical distance of 6' while working.  If that is not possible, a mask will be required.  If you feel sick or have been exposed to someone who has recently been diagnosed with COVID-19, please stay home.  We will look forward to seeing you at a future trail build.
Directions: Greensfelder Park, Allenton Rd. behind Six Flags. NOTE: Park at the Glassberg Shelter. See map below. This time we will walk to the build area from Glassberg Shelter.
What to bring: Gloves, Sturdy shoes, eye protection, and something to drink on the trail.
Lunch will be provided by St. Louis County Parks.
Download the Schedule as a PDF
Download the Schedule as a Quarter Sheet PDF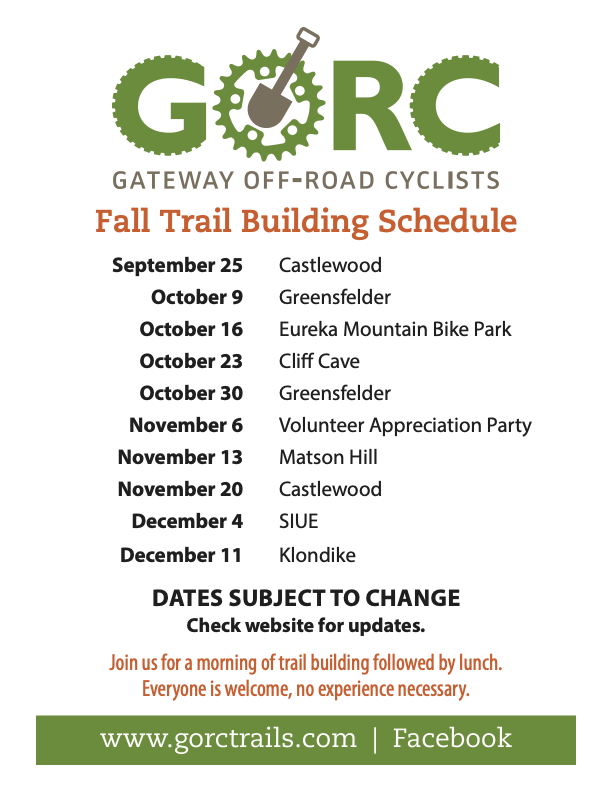 When
October 9th, 2021 9:00 AM through 1:00 PM
Location
Greensfelder Park - Glassberg Shelter
MO