Build - Greensfelder - Trail Building Day 03-13-21
Date: Saturday, March 13, 2021 - 9am - 1pm
Location: Greensfelder Park, meet at Visitor Center to sign in
Build Plans:
We will be continuing to build new trail on Deer Run and HOPE to connect the new Deer Run reroute to its connection point on the Eagle Valley climb to the visitor center. This would create a rideable loop, however, some sections may need additional work at future mini-workdays.
Our focus will be to:
1. Fiinish building the last 100 feet to the rocky slab crossing
2. Building a section of trail above the rocky slab crossing that involves 3 turns on a dirt hillside
3. Build trail across a steep drainage that ties into what we built two weeks ago.
4. The other big push is to build where we started two weeks ago but head in the opposite direction to finish the last remaining portion of bench cut trail to tie into the Eagle Valley/Deer Run/DeClue Visitor Center climb/descent.
If we can connect this loop we can start letting people burn in a line to know where we need to fine-tune some sections and hopefully get it into the Greensfelder Challenge!
COVID-19 & Trailbuilding: As most trail crews are small, working outside of normal exposure to the public, trail building is an inherently "socially isolated" activity. GORC believes that utilizing best practices in maintaining a hygienic and safe work site can minimize the potential of exposure to COVID-19 for volunteers and the general public.  We will require all volunteers to maintain a physical distance of 6' while working.  If that is not possible, a mask will be required.  If you feel sick or have been exposed to someone who has recently been diagnosed with COVID-19, please stay home.  We will look forward to seeing you at a future trail build.
Directions: Greensfelder Park, Allenton Rd. behind Six Flags. NOTE: Park at the Visitor Center. See map below. This time we will walk to the build area from the Visitor Center.
What to bring: Gloves, Sturdy shoes, eye protection, and something to drink on the trail.
Lunch will be provided by St. Louis County Parks.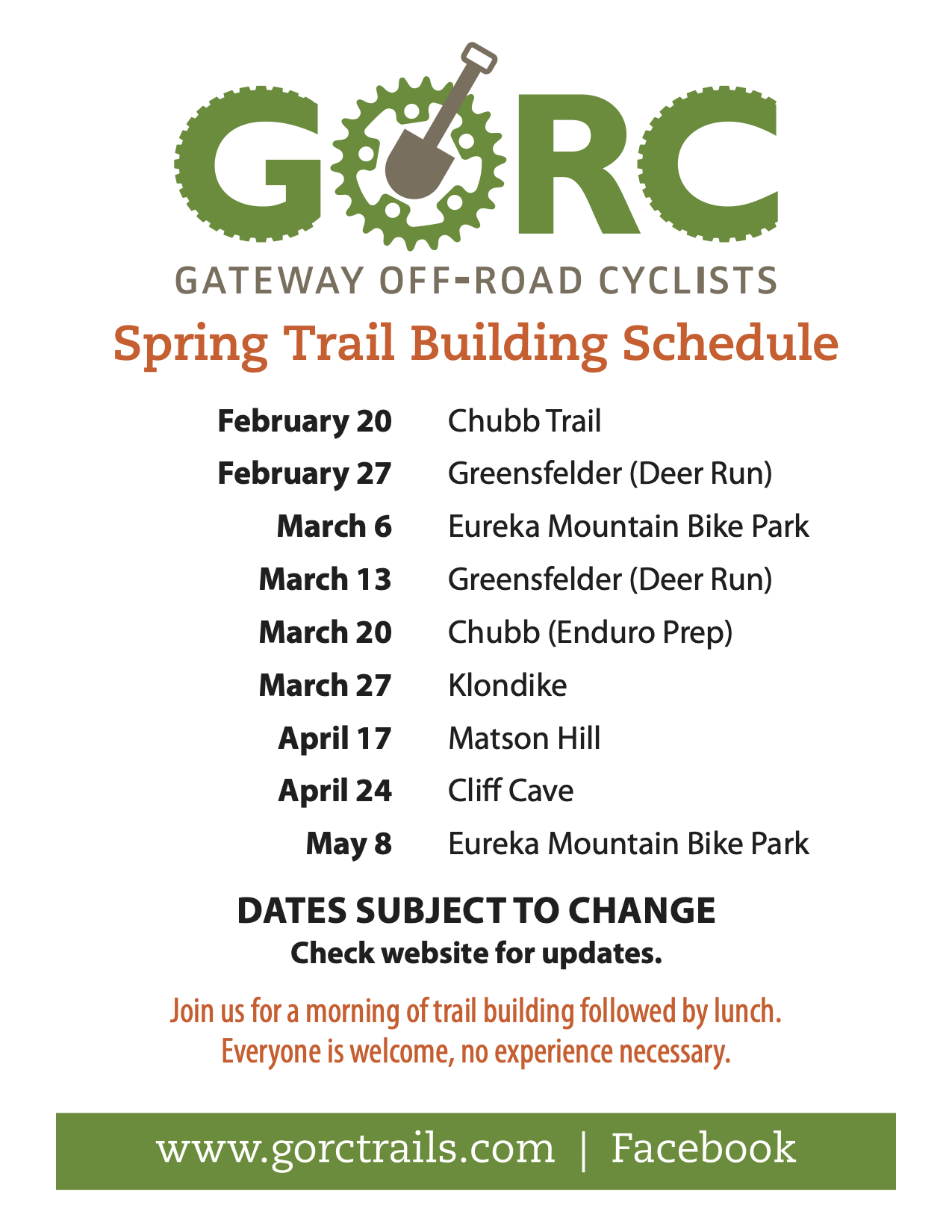 When
March 13th, 2021 9:00 AM through 1:00 PM
Location
Greensfelder Park - Visitor Center Lot




Eureka

,

MO