GORC is once again in the news and this time we are gracing the digital pages of locally-based Terrain Magazine. The article discusses our trail building philosophy and techniques, letting people in on the 'secret' of how our local parks sprout new singletrack multi-use trails. Bryan Adams, our current president of 5 years and counting is quoted several times in the informative article. Terrain is a great new addition to our local outdoor scene and they cover running, paddling, hiking and biking in each online issue. You can read the trail building and GORC-focused article on Terrain's website. Be sure to visit their Terrain's homepage, too.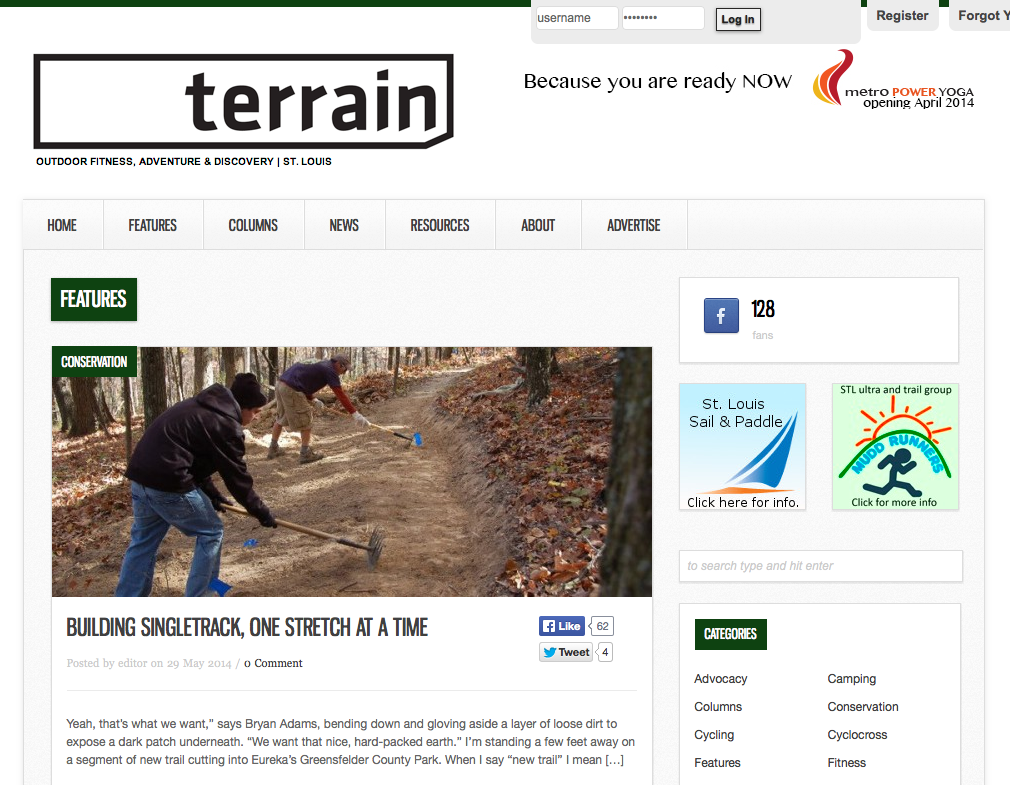 About Terrain
Terrain is a locally owned and operated magazine that focuses on outdoor fitness, adventure and discovery in St. Louis and the surrounding area. Our goal is to connect area enthusiasts who are passionate about sports such as running, hiking, biking, paddling and climbing. Terrain's editorial package includes top destinations and locations, personality and business profiles, education and tips, gear and accessories, sports nutrition and medicine, and fitness news and events.
Terrain magazine is scheduled to launch a print edition in 2014, with captivating and authentic content from local writers and breathtaking images from regional photographers. Complementing the printed format, our online presence includes expanded editorial coverage as well as a comprehensive calendar of outdoor events and a full list of resources to help readers enjoy their adventure of choice.