Located in O'Fallon, Illinois, the Bike Surgeon strives to be the premier bike and outdoor shop in the greater Metro-east area of St. Louis. We go all out every day to be your shop of choice for bikes and outdoor gear. We aim to deliver an unforgettable shop experience for our long time friends and our newest customers all while maintaining a phenomenal selection of industry leading bikes and gear.
Service
When your bike is in need of a little or a lot of love, the only place to bring it is the Surgeon. We have the most experienced and talented staff of bicycle mechanics in all of the Metro East and Southern Illinois. Whether a cable adjustment on your Campy Record from 1998 or a complete suspension overhaul on your Santa Cruz Superlight, we have the expertise and experience to diagnose the problem, make the repair and stand behind our work.
We carry Specialized, Cervelo, Litespeed and Felt bike brands.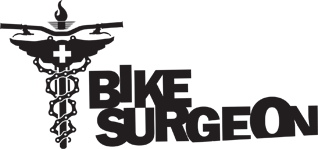 Hours:
Monday - Friday: 10am - 7pm
Saturday 8am - 5pm
Sunday 12pm - 5pm

Email: info@bikesurgeon.com
Phone: (618) 622-1693
201 EAST STATE ST, O'FALLON, IL
2341 PLUM ST., EDWARDSVILLE ,IL